Thermoelectric Cooling Systems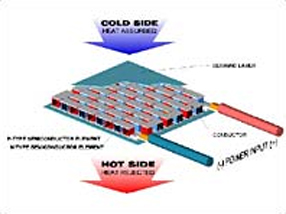 A thermoelectric cooling system is built using the Peltier effect. The thermoelectric cooling system capitalizes on this technology in devices that are used for cooling water, air or other moving medias. CustomChill manufactures a variety of chiller products for our customers that use the thermoelectric cooling technology to create devices that:
Have precise temperature control
Are environmentally friendly (no CFC refrigerants)
Have no moving parts
Are free of noise and vibration
Are small and lightweight
Localize cooling
Have fast temperature response
Advantages of Thermoelectric Cooling Systems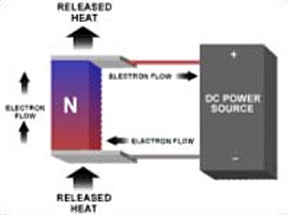 Because of the above properties, CustomChill can make chillers that are reliable, small in size, and cost effective. These thermoelectric cooling system devices eliminate the risk of Freon leaks. Components can be designed to operate together to get the best results in temperature control within a small space. For a product design where minimum size and precise temperature control are required, CustomChill can work with you to customize and optimize a thermoelectric cooling system for your application.
Applications of Thermoelectric Cooling Systems
CustomChill manufactures a variety of thermoelectric cooling systems or thermal chillers. Some of these thermoelectric cooling system products are:
Medical chillers
Water chillers
Semiconductor chillers
Food and beverage chillers
In addition, CustomChill specializes in custom thermoelectric cooling systems.
CustomChill can work with you to help design your product to optimize the use of a thermoelectric cooling system in your product or device.
History of Thermoelectric Cooling Systems – the Peltier Effect and TEC Basics
Thermoelectric cooling systems are really solid state heat pumps. They are a modern application of a scientific discovery called the Peltier effect, discovered in 1822 by Jean Charles Athanase Peltier (1785 – 1845). Peltier found that a reversible cooling/heating effect occurs when an electric current passes through two conductors bonded together. The TEC module for this Peltier effect consists of p-type and n-type semiconductor pairs (couples) connected electrically in series between two ceramic plates. This simple technology discovery has now found many new uses, and is the base upon which CustomChill is able to create innovative products to serve our customers' needs